BBC Crate Motors
You can price and order genuine Chevrolet and GM Performance Parts and engine parts from eBay or directly from your local Chevy or GM Performance Parts dealer counter.

---
In August of 2002, word started to leak out about two new mega cubic inch BBC tall-deck crate motors that Chevy/GM/Performance Parts were cooking up. The "ZZ572" crate motors come in two versions: one with 572/620hp/650tq has a 9.6-1 CR and runs on pump premium gas (deluxe assembled version PN- 12498793). The ZZ572R race version haven't been released for sale yet, but is a 572ci/720hp/685tq motor with 12.0-1 CR and runs on race fuel (deluxe assembled version PN-12498827). The deluxe versions come with carb, distributor, tall deck aluminum intake, water pump, plug wires and more. A short block version and a long block version are also available under different part numbers.
---
12371204 - ZZ 502/502 HP Gen.VI long block, partially assembled, includes 4 bolt main caps, aluminum large oval port heads with 2.25"/1.88" valves, 110cc chambers, siamesed cylinders, forged cranks, 7/16" rod bolts, forged pistons, 9.6-1 CR, hyd. roller cam (lift .527"/.544", dur. @ .050" = 224/234), adjustable 1.7 rocker arms, aluminum valve covers, 6 quart oil pan, windage tray, damper and 14" 168 tooth flexplate. Shortblock is assembled, requires bolting heads on. Kit includes required gaskets, head bolts and pushrods. 502 hp @ 5200 rpm, 567 ft./lbs. torque @ 4200 rpm, requires intake manifold, carb, distributor, water pump to complete. Requires premium fuel.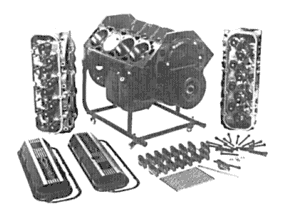 ---
12371171 - ZZ 502/502 HP Premium Complete Engine Kit, Gen.VI long block, same as 12371204 above, however, this kit includes dual plane aluminum intake, 850 cfm Holley carb with vacuum secondaries, "tall" aluminum water pump, 8mm spark plug wires, HEI distributor, spark plugs, lightweight, high torque, gear reduction starter. Kit includes all necessary bolts and gaskets. Requires premium fuel.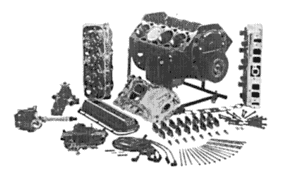 ---
12495360 - Four quart oil pan kit. Fits '91-later Gen.V and VI BBC motors with one piece rear main seals. Use on Gen.V/VI BBC crate motors when installing engine into early Camaro and Chevelle and GM "A" body cars. Kit includes oil pump, pickup screen, four main cap bolts, dipstick, dipstick tube and oil pan gasket.
---
12498777 - ZZ454 BBC Gen. VI crate motor with 440hp/500tq. It has a streetable 9.6-1 CR and uses the GMPP aluminum oval port heads on a 4-bolt Gen. VI block.
---